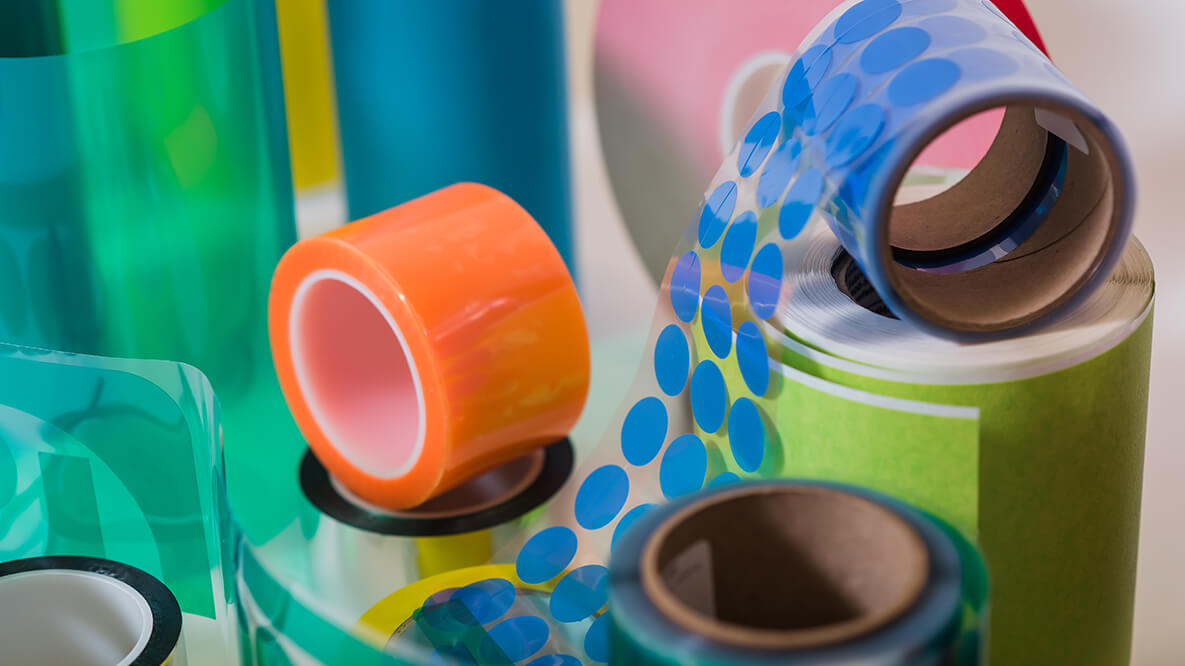 Powder coating is a dry finishing process that has become extremely popular since its introduction in North America in the 1960s. Representing over 15% of the total industrial finishing market, the global powder coatings market is expected to reach $16.55B by 2024. Applied as a substance which resembles baking flour in consistency, it is easy for the coating to end up in places it would not be wanted. With many different powder coating masking tapes available, it can be difficult to select the best option.
Polyester Tapes (PET) consist of a polyester carrier (the non-adhesive part of tape) and a silicone adhesive. Silicone is very resilient to extreme temperatures and therefore is used in high heat applications. The initial tack and ultimate adhesion of silicone is lower than acrylic and rubber adhesives and allows for clean removal after high heat processes. These tapes can withstand powder coating curing processes up to 425°F placing them in the class of high temperature masking tapes.
Polyimide Tapes are better known by their trade name Kapton®. There are many different formulations, but the most popular for masking are the basic 1 mil and 2 mil tapes. While there are various applications in which polyimide tapes are used, they are most often used in powder coat masking when the performance of polyester tape is suffering due to high heat ovens. IR ovens can produce heat higher than tradition curing ovens - polyimide tapes are rated for continuous exposure to 500°F for up to an hour and short exposures over 700°F.
Glass Cloth Tapes are manufactured from a woven fiberglass cloth with a silicone adhesive. These tapes can withstand continuous temperatures to 500°F with excursions to 550°F or higher depending on the type and duration of the heat source. This tape is extremely durable and is also used in blasting applications. Because it is a woven cloth, it does not produce edge lines that are as sharp as the PET and Kapton® tapes. It is a popular choice when masking buss bar for powder coating.
Die Cut Tapes reduce manufacturing costs by providing precise, pre-cut pieces that eliminate hand-trimming. The vast majority of powder coating tapes can be converted into die cuts. There are standard, stock die cuts such as basic circles, squares and donuts that are readily available. For more complex geometries custom die cuts can be created. Die cuts are supplied on a liner – a material that is specifically matched with the adhesive of that part – which allows for the part to be removed cleanly.
Pro Tip
Clean the surface to be masked very well
In most cases, a simple mixture of one-part isopropyl alcohol (IPA) to one-part water will adequately clean the surface. Some exceptions include heavy oil/grease and heavy dirt/oxidation. In the case of heavy oil/grease, you may wish to use a degreaser or solvent-based cleaner before cleaning with the IPA/water mixture to remove more stubborn patches. In the case of heavy dirt/oxidation, abrading the surface before cleaning with the IPA/water mixture will promote better tape adhesion.
Questions? CFS has masking experts available for free consultation. With offices in Wisconsin, California and Texas and additional representation in Ohio and Georgia - we can be on-site to evaluate complex masking issues. VMI also available in select regions. Give us a call today!