Custom Rotary Die Cutting Services
Rotary die cutting is the process of choice for producing thin film and pressure sensitive adhesive tape die cuts in high volume. CFS utilizes the flexibility provided by our machinery and tooling to produce in-line laminating, kiss cutting, scoring, split lining, sheeting, kitting, and perforating. Specialty services include
Precision Die Cutting
,
Laser Die Cutting
and
Variable Data Printing
.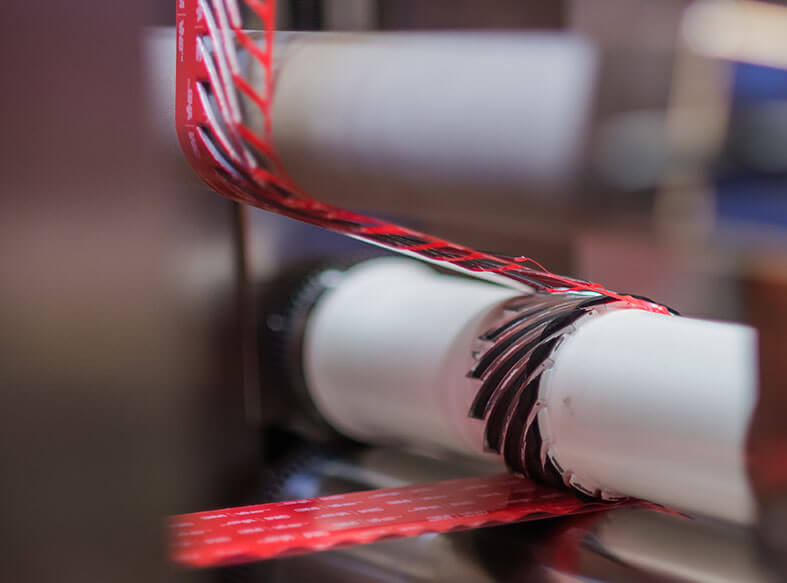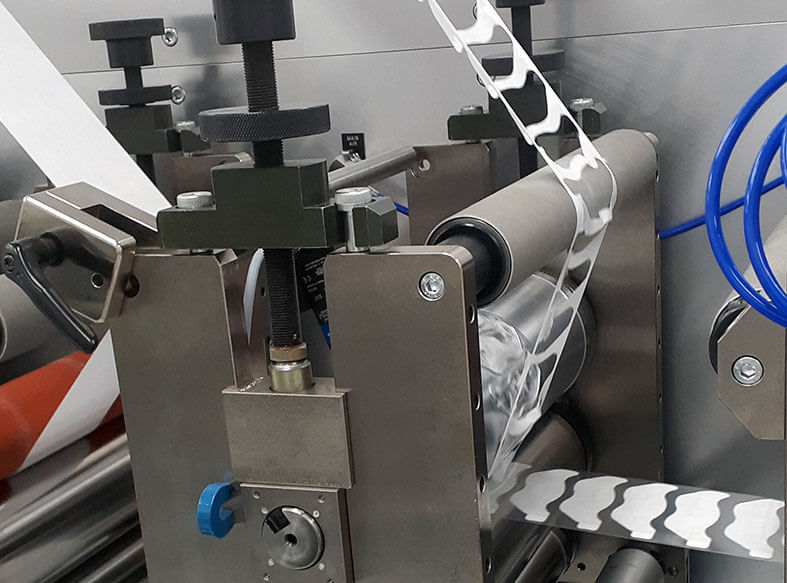 Rotary Die Cutting Services from CFS
Our in-house engineering team will work with you to ensure the process of creating your custom rotary die cut is flawless. With many different manufacturing equipment options at our disposal, we select the fastest and most cost effective solution to meet your requirements. We offer die cut quantities from prototypes and short runs to large production volumes. Given the large library of materials we carry, lead times are some of the shortest in the industry, with same-day samples often available. We can easily split liners and pull tabs for easy removal.
What is rotary die cutting?
Rotary die cutting is a high speed, cost effective method of cutting parts from flexible film and adhesive materials. This die cutting process utilizes custom-designed cylindrical dies affixed to a rotary press to convert material into the desired shapes.
ROTARY DIES
The pattern desired is milled into a die - the rule is the portion that is the sharp cutting surface. Dies used in rotary die cutting can flexible or solid. A flexible die is composed of a thin sheet of metal rather than a solid cylinder, they are simpler and less expensive to manufacture. However, they have limitations as to what materials for which they are suited and have a much shorter lifespan. The solid design of solid rotary dies allows for deeper engravings and higher die blade heights, enabling solid dies to cut through thicker and multi-layered materials. Additionally, their solid construction provides durability and longevity. These benefits are especially useful for high volume production runs. Another advantages of solid rotary dies is their ability to be re-sharpened. Where flexible dies must be discarded when dulled and fatigued, solid dies can be re-sharpened and reworked several times. Although not infinite, this ability further adds to the life expectancy of solid dies.
ROTARY PRESSES
A rotary die cutting press is a machine that has stations on which spindles are located. The width of the spindle determines the maximum web with that can be accommodated by the machine. CFS has rotary capabilities up to 13" in width. Rolls of the material(s) needed to make the die cut are positioned and fed through the machine. Multiple stations can be utilized to perform different functions - laminating, kiss cutting, through cutting, etc. To produce the shape, the material (generally laminated to a liner) passes through a precise gap between the cylindrical die and anvil. This allows the rule of the die to cut through the tape and merely "kiss" the surface of the liner. Reversely, the liner may be slit along the die cut shape creating a "split back liner" so that it can easily be removed. Technically this process is also kiss cutting. A final die can be placed in-line that cuts all the way through the liner where there is not adhesive tape, creating a sheet instead of a roll as the final product.
ROTARY DIE CUT MATERIALS
Rotary die cutting can be used to convert a wide range of materials. We routinely die cut industrial masking tapes (green polyester, polyimide, crepe, etc), VHB tapes, medical tapes, and thin gasket materials up to 1/4" in thickness. We have a large library of materials, and as a 3M Preferred Converter we have access to hundreds of non-stock materials as well.
For more information on rotary die cut services from CFS or to speak with one of our knowledgeable professionals please feel free to Contact Us or complete our online Request A Quote form.