CFS offers both traditional steel rule die cutting and
automatic flatbed die cutting services
. Steel rule die cutting is based on a simple concept - a thin ribbon of steel is formed into the shape of a desired product. These "rules" are set into a rigid board generally made from wood or plastic. These dies are then pressed into the material substrate by a hydraulic press. Steel rule dies, when used in conjunction with an automated press, become flatbed die cutting.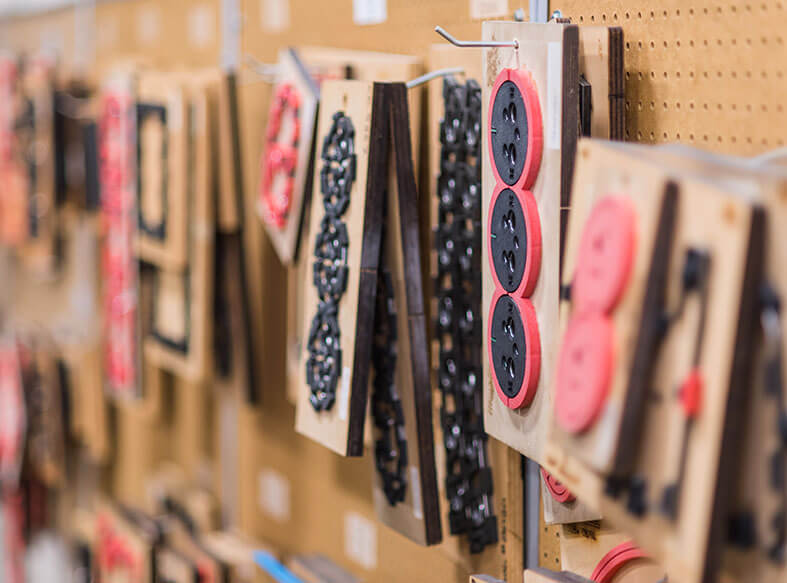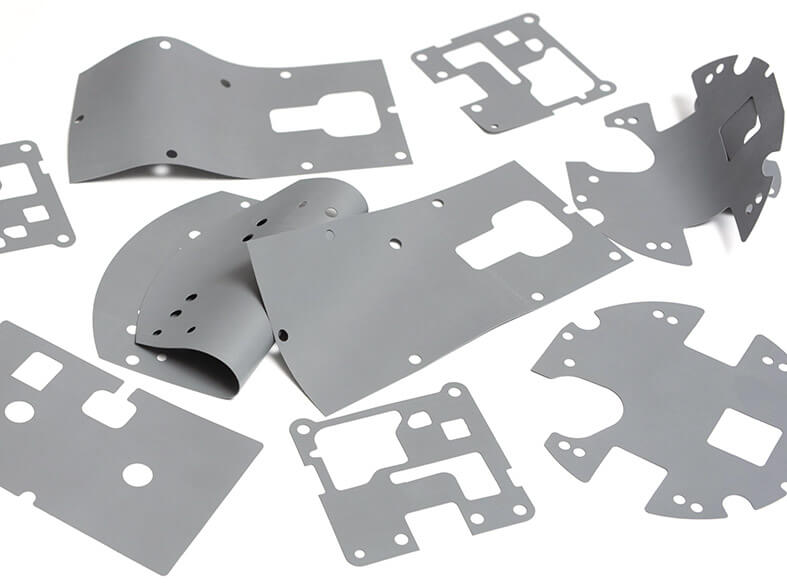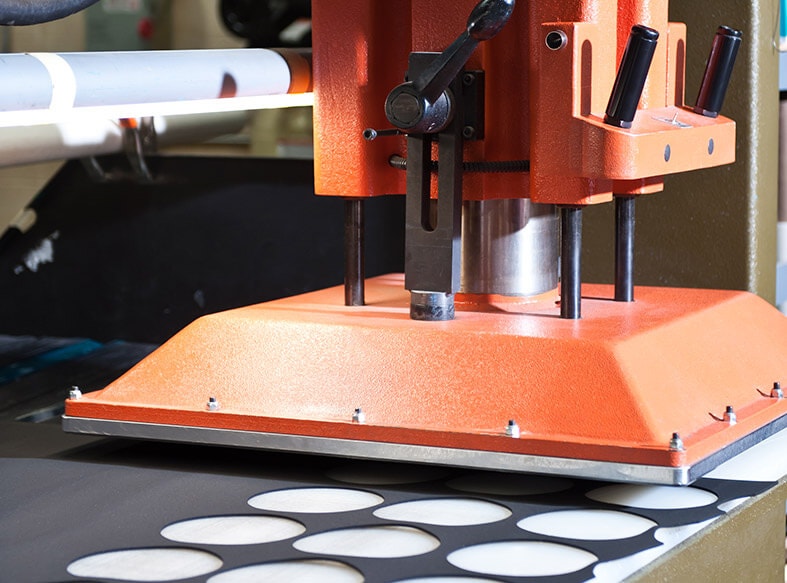 Steel Rule Die Cutting Services from CFS
Steel rule die cutting is used to create parts with diameters larger than a rotary press can accommodate. It is the preferred method for cutting many gasket materials, such as rubber and foam, which are too thick for rotary presses. Steel rule die cutting produces minimal material deformation, creating uniform products with high quality, clean, vertical edges. Quantities from prototypes and short runs to large production volumes. Our extensive library of materials mean lead times are some of the shortest in the industry, with same-day samples often available. We can provide split liners and pull tabs for easy removal.
What is steel rule die cutting?
Steel rule die cutting is an efficient and cost effective method of cutting parts from foams, films, rubber, foils, and adhesive tapes. This die cutting process utilizes a rigid board into which a thin blade of steel (the "rule") is set at a precise depth then stamped very firmly with a hydraulic "punch" press into the material.
STEEL RULE DIES
A steel rule die has three components: a die base (board), steel rule cutting blade, and rubber ejection material. The desired shape is cut into the die base using a laser or water jet. The steel rule cutting blade is bent into the shape of the design and fitted into the laser-cut channel in the die board. Rubber or foam material is placed in the space between the rule to eject the waste material from the die-cut cavity. Matched metal dies—also referred to as male/female dies—consist of two separate die components. As the die cutting machine applies pressure to them, the male halves meet the female halves, cutting any material between them. Compared to steel rule dies, matched metal dies offer tighter tolerances, especially on thicker materials.
STEEL RULE PRESSES
There are many different types of machines that can perform steel rule die cutting. A swing arm clicker press requires the operator to manually place the material and die into place. It consists of a hydraulic press with a platen that distributes the load and an arm that will swing away, allowing access to the die board and material beneath. Traveling head presses can be manual or automated and allow the head to move linearly within the width of a machine. The manual version is similar to the clicker press, however the platen does not swing away. The automated version can pull material off a roll and feed it through the press, with the machine advancing the waste material as well as the finished product. Automated Flatbed cutting has a fixed platen and press. Material is automatically fed through the machine on rolls. The finished product is pushed through a board onto a conveyor below, delivering stacked and counted product to the operator.
STEEL RULE DIE CUT MATERIALS
Steel rule die cutting can be used to convert a wide range of materials. We routinely convert silicone foam and sponge, EPDM rubber, thermal pad, RN-8011, chipboard, paper, vinyl, industrial tapes, Tyvek, Poron, Nomex, magnet, VHB tape and cork . We have a large library of materials, and as a 3M Preferred Converter we have access to hundreds of non-stock materials as well.
For more information on steel rule die cutting services from CFS or to speak with one of our knowledgeable professionals please feel free to Contact Us or complete our online Request A Quote form.