Custom Gasket Manufacturing
CFS manufactures custom gaskets, seals, o-rings and spacers for OEMs and their suppliers. Popular materials include silicone, Viton, Poron, EPDM, and many open and closed cell foams. Production methods include
rotary die cutting
,
dieless knife cutting
,
steel rule die cutting
,
automated flatbed die cutting
, injection molding and compression molding. In addition, CFS offers adhesive laminating services for most gasket materials. We can easily provide kiss-cutting or split liners for your non-metallic gaskets requiring an adhesive backing.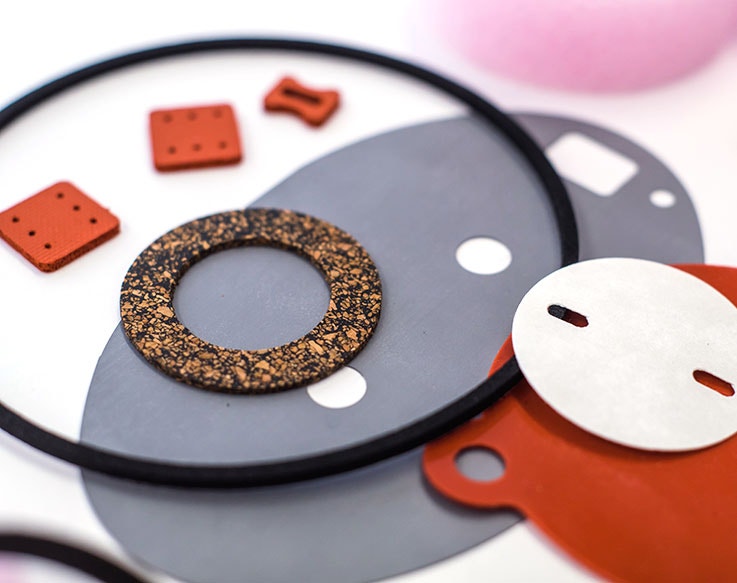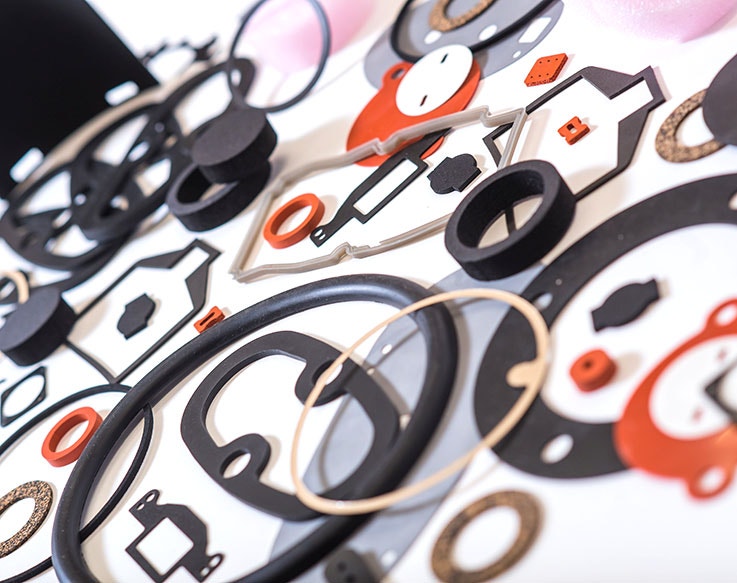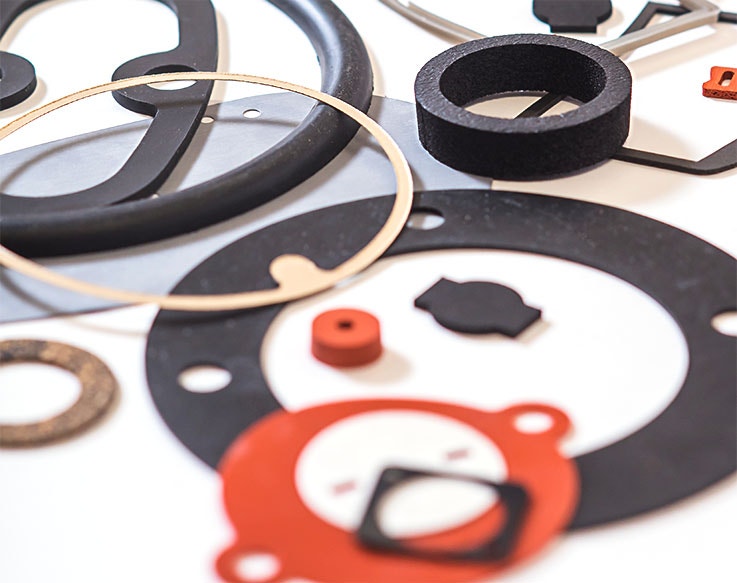 Custom Fabricating & Supplies manufactures custom gaskets from materials such as silicone rubber, Neoprene, Nitrile, EPDM, Poron®, Santoprene ®, RN-8011, Viton ® ,Teflon / PTFE, cork, fishpaper and much more. We can source the gasket material or use your customer-supplied materials. Our in-house engineering team will work with you to ensure the perfect fit for your custom gasket needs. In addition to custom gasket making capabilities, CFS offers large format cutting and adhesive laminating services. We can easily provide kiss-cutting or split liners for your gaskets requiring an adhesive backing. Learn more about gasket materials HERE.
CFS has many high-speed, rotary die cutting machines that are available for producing custom gaskets. This method is ideal for high-volume jobs or repeat orders. Initial set-up costs are usually higher due to the necessity of purchasing the rotary die, but the cost is quickly recouped when large quantities are needed.
Our Atom Flash machines produce parts from a common .dxf CAD file. You may supply your .dxf file, or we can create one for you. Dimensional changes to a part can simply be made by revising the file or creating a new one. No tooling is required.
The dieless knife system will fabricate parts without the "hourglass" distortion to the sides that may be found in some die-cut parts. This benefit is most visible on thicker and very soft materials. It can also produce parts to tighter tolerances than can be achieved with standard die-cutting methods. RMA class 1 or tighter tolerances are a possibility on sponge and other soft materials where such precision is required. Perfect for silicone gaskets, neoprene gaskets, EPDm gaskets and all other non-metallic materials.
Steel Rule dies are much less expensive than rotary die tools. Our Preco automatic hydraulic die cutting machine can create extremely precice cuts on thick materials. This makes short production runs, especially with complex geometries, far less expensive with a steel rule die than other methods. It is also a very good option when gaskets with larger dimensions are required.
Injection Molded Gaskets and Seals
Injection molding is the best choice for intricate, high-volume production runs of rubber seals and gaskets which require tight tolerances. Rubber injection molding involves feeding material into a press, which is then warmed and injected into a mold. This molding process is the most precise because the injection process controls the pressure, temperature and speed at which the material enters the mold.
Compression Molded Gaskets
Compression molding is a tried-and-true method of manufacturing simple rubber parts. The process is akin to waffle- making — a given amount of uncured rubber is placed into a mold cavity, which is then closed and heated. When the parts have cured, they are removed from the mold. Compression molding produces parts with a low tooling cost and lead time. Tight tolerances are difficult to achieve with compression molding and may not be the best choice for intricate geometries.
For more information on our custom rubber molding services or to speak with one of our knowledgeable professionals please feel free to Contact Us or complete our online Request For Quote form.