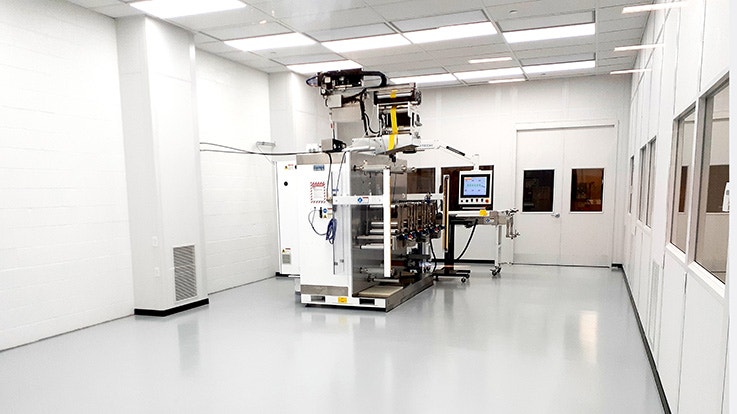 With the explosive growth in Medical Wearables, clean room die cutting services are highly sought after. There are a some very large converters who handle the vast majority of the extreme volume products (like bandaids, anti-snore strips, etc). Few medical tape converters handle smaller volume runs. Long known as a converter with the capability to handle the toughest tape converting issues with short lead times , the addition of a clean room at CFS seemed like a natural extension of our capabilities. CFS received ISO 14644-1:2015 Class 7 Cleanroom certification of our 800+ sq. ft clean room in July 2020.
In December 2017, a Delta ModTech precision die cutting machine arrived at CFS. Considered the Rolls Royce of rotary machines, its capabilities are virtually unparalleled. CFS was one of only a small group of tape converters to utilize the technology. Over the course of the next 2 years tight tolerance jobs with complex laminations were tasked to the new Delta. However, we knew it could do so much more. In speaking with representatives from 3M and Avery one phrase was being repeated - "Clean Room".
There are many options to consider when building a clean room - do you want a hard wall or soft wall? Permanent or modular? Will the air pass through or be recirculated? What class of clean room? And the list goes on...! CFS partnered with a company in Wisconsin that has decades of clean room design and installation experience to select the best options for our future growth. In the end, CFS selected a Class 7 modular hard wall construction with recirculating air handling (allowing consistent temperature and humidity control).
Inside the new clean room is the Delta ModTech rotary die cutting machine outfitted with an inline Domino inkjet printer, rewinding and packaging stations so that the A-Z converting process can be completed in a clean manufacturing environment. Clean room manufacturing is not limited to medical tape converting. Clean Room die cutting is also sought after in the electronics sector when particulate matter cannot be contained on adhesive. CFS brings nearly 60 years of combined tape converting experience to tackle your project. Contact us today to learn how we can help!