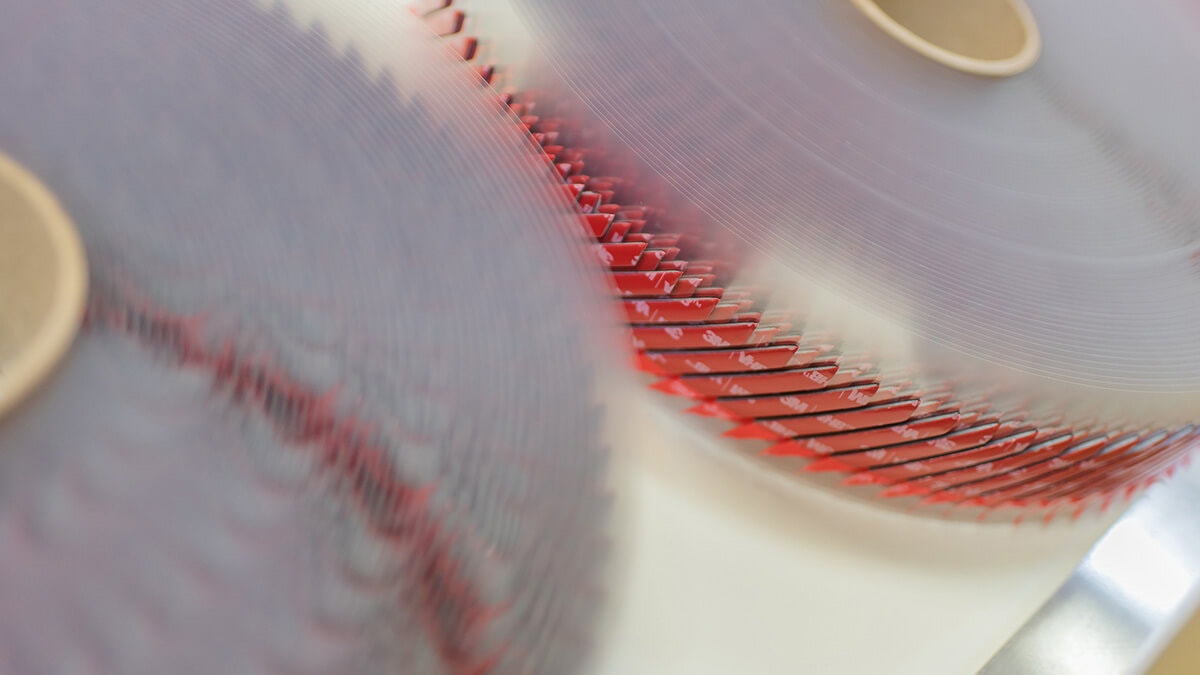 The 3M™ brand is recognized globally as an innovative leader in adhesive technologies. While it is possible for most companies to purchase and convert 3M™ products, only a few are selected by the corporation as Preferred Converters. This designation recognizes elite converting companies that consistently exceeded others in quality, capabilities, experience and customer service. CFS is proud to be in this unique group.
How does being a Preferred Converter help our customers?
CFS can take 3M™ products and add our own expertise to turn them into custom converted parts perfect for your design. Our decades of experience with 3M™ products and pressure sensitive adhesives can create a superior product in terms of price and performance. The partnership CFS has built with 3M™ provides advantages for our customers including:
Competitive Pricing – We order 3M™ materials on a regular basis. Purchasing large quantities provides us with pricing that cannot be achieved when buying in minimum quantities. CFS can then pass these saving along to our customers.
Custom Converting – as we purchase tapes in bulk, we re-roll these materials in-house before slitting. This means that we can provide you with rolls to the exact length and width that you need. We are known for our ability to slit challenging tapes into very small widths while holding tight tolerances.
Access to 3M™ Specialists and Support – 3M™ has thousands of products which can make it difficult to determine exactly which one best fits the niche applications we are confronted with. This is when having access to these 3M™ specialists is critical, as they can assist with the perfect solution for our customers the first time.
How does Custom Fabricating & Supplies differ from other 3M™ Preferred Converters?
Our converting capabilities allow us to perform all services in house for our customers. Whether laminating 3M™ adhesives to flexible gasket materials or producing VHB die cuts with island placement and pull tabs, we can handle all your 3M™ adhesive needs. Specifically, keeping all production under one roof has many unique benefits:
Rapid Turnaround Times – From design to samples, prototypes to production we cut out the red tape associated with massive converters. Need it fast? We can do it!
Unsurpassed Customer Service – We are proud of the feedback that we receive about the quality of our service. A recent comment from a new customer survey, "My new rep was super awesome to work with! I wish all sales reps were that friendly and responsive". CFS strives to be a leader in supporting our customers at all phases of their projects.
Large inventory of 3M™ products – we house all our 3M™ tapes in our Franklin, Wi facility. No waiting for your raw material to be transferred to another facility to be processed. We can often slit stock materials same day.
ISO 9001:2015 Quality Certified - We believe in the continued improvement of our organization, so we may provide our customers with the highest level of service expected from a partner. Our customers have the confidence that CFS is adhering to the systems and procedures that being ISO 9001:2015 Certified demands.
 What 3M™ Materials does CFS convert?
3M™ Adhesive Transfer Tapes
3M™ Single Coated Industrial Tapes
3M™ Polyester Tapes
3M™ Crepe Masking Tapes
3M™ Double Coated Tapes
3M™ VHB Tapes
CFS has over 40 years of experience in the industry and are experts in surface protection applications such as tapes and plugs as well as seals, mounting & holding, gaskets, spacers, shielding and insulators.  Our capabilities include precision rotary die cutting, dieless knife cutting, kiss cutting, custom molded parts, slitting and laminating. Contact CFS today to see how a recognized 3M™ partner can help improve your final product performance, streamline your manufacturing process, reduce total costs and much more!